Trolley Wheel Manufacturers & Suppliers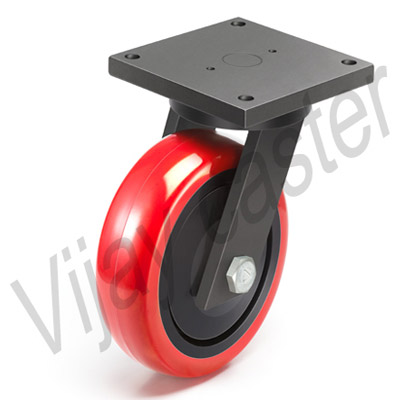 Trolley wheel is a small sized wheel attached to the legs of furniture, shopping carts, trolleys used in industries, hospitals, hotels and restaurants, airports etc. An ideal trolley wheel has excellent weight bearing capacity and moves smoothly with minimal rolling resistance and noise.
We at Vijay plastic, manufacture supreme quality trolley wheels made up of highly qualitative raw-materials such as HMHD, PPCP, PU Coated, UHMW, Nylon, Fibre, Nylon Rubber and C.I etc with sizes ranging from 50 mm to 500 mm and weight bearing capacity from 50 to 7000 kg. Our extensive range of Trolley Wheel in India such as  Heavy Duty Trolley Wheel, Nylon Trolley Wheel, UHMW Trolley Wheel, HMHD Trolley Wheel, Fibre Trolley Wheel, Rubber Trolley Wheel and CI Trolley Wheel are widely demanded in the domestic market. This is because our products are robust and qualitatively made utilizing the latest technology as per the norms of the industry. We are the leading Trolley Wheel Supplier of India.
Easy to install
High Durability
Dimensionally precise
Excellent performance
Minimal maintenance needed
Smooth movement
Heavy load-bearing capacity
Exceptional strength
High abrasion resistance
Nonnoisy
Negligible rolling resistance
Packaging Industries
Paper industries
Textile Industries
Sugar mills
Railways
Materials handling application
Hospitals & clinics
Building construction application
Industrial hand cart or trolleys